Pro-wrestler Benoit, wife and son found dead
ESPN – Pro wrestler Benoit, wife and son found dead – Gen

Benoit had missed several appointments over the weekend, leading some concerned parties to ask police to do a "welfare check," Pope told ABC News. The WWE reported on its Web site on Monday night that friends received several curious text messages sent by Benoit early Sunday morning, prompting VP of Government Relations for WWE, Inc. Richard Hering to contact Fayette County sheriffs on Monday and request they check on Benoit and his family. When sheriffs arrived at the home, they found the wrestler, his wife and their son dead.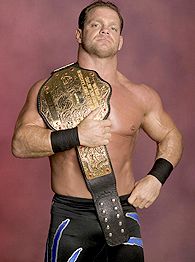 infelizmente, efeitos do esporte [porradas na cabeça por muitos anos] podem estar ligados a isso [depressão extrema e demência].
Luta-livre profissional é um treco mais violento do que a encenação indica, porque a cada dois ou três meses sai uma notícia de falecimento de lutador na ativa – em geral por ataque cardíaco.
Posts Recentes | Recent Posts: