Mulheromem chegou! WO-MAN is upon us!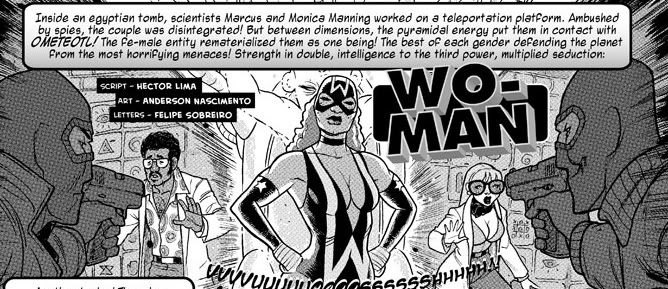 ontem chegaram no meu email as últimas páginas letreiradas da primeira aventura de MULHEROMEM letreiradas pelo incrível Felipe Sobreiro, que entendeu o design que a HQ pedia e fez um puta trabalho legal. foi um parto pra essa HQ sair; em alguns momentos pensei que justo o editor/organizador da INKSHOT não teria sua HQ no álbum – digo isso porque antes de editor eu sou é roteirista mesmo.
yesterday i got in my inbox the final pages of WO-MAN, lettered by the amazing Felipe Sobreiro, who understood the design this comic required and a hell of a cool job. the making was nothing short of a mother's labour; some moments i thought INKSHOT's very own editor/organizer would not have its comic in the book. – i say this because first and foremost i'm a comic writer, not an editor.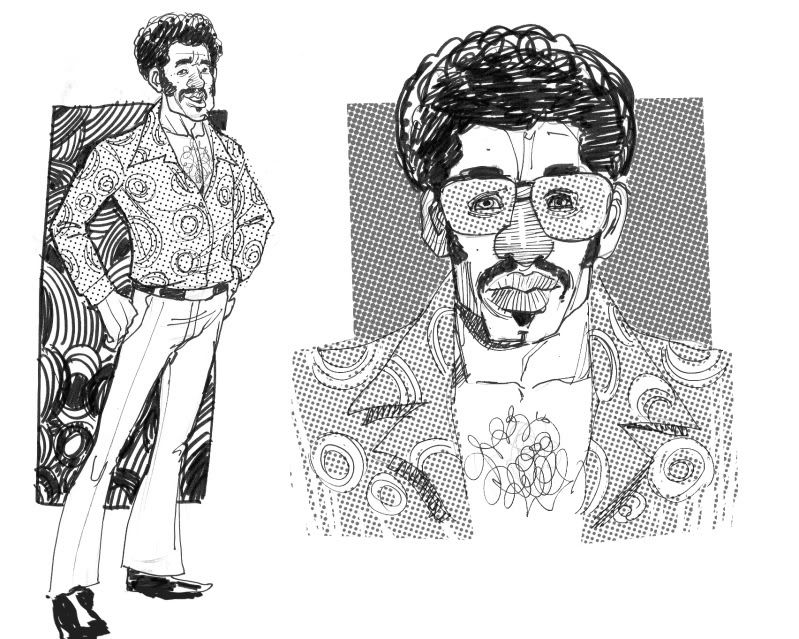 ela passou por 2 ou 3 desenhistas antes de ser feita de verdade – um que sumiu, outro que não estava preparado pra fazer. passado o nervoso dessas situações, fico até grato por não ter rolado com eles, porque eu pude trombar com Anderson Nascimento, desenhista da MAD, que fez um trabalho lindo e foi o que melhor captou o espírito que eu precisava.
it went through 2 or 3 artists before actually being pencilled – one disappeared, the other was simply not ready to do it. once the tension got past, i'm now even glad it didn't happen with those guys, because i could stumble into Anderson Nascimento, an illustrator for the brazilian MAD magazine, who did a beautiful job and was the one who best got the needed 'spirit'.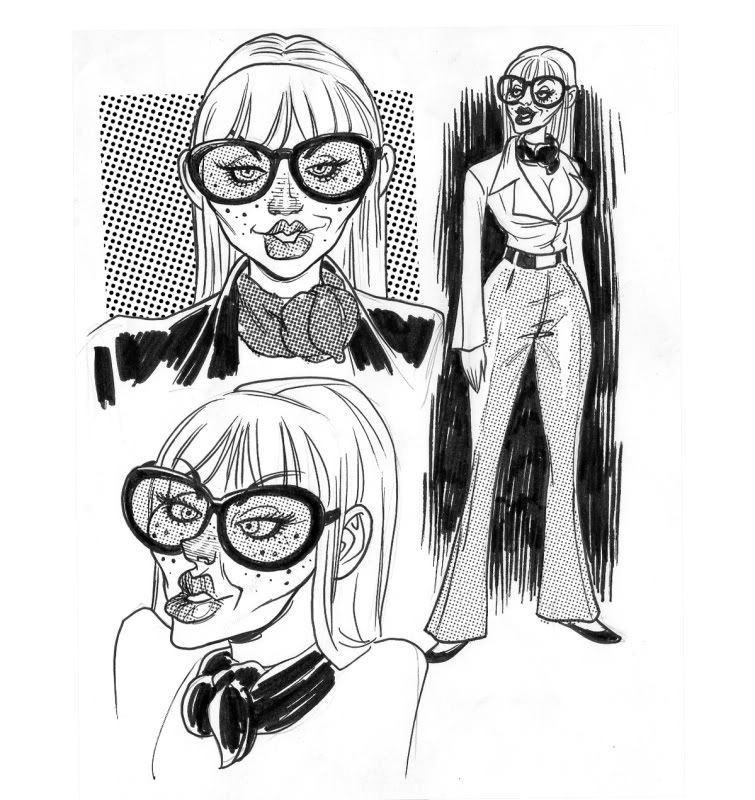 ele ser colaborador da MAD foi crucial; ele entendeu o clima do roteiro e isso é a coisa mais importante na colaboração roteirista-desenhista, pra mim mais do que o cara saber interpretar descrição de cenas. também foi uma ótima sincronicidade\coincidência, porque na pesquisa eu não parava de olhar ilustrações de Carlos Chagas, o Mort Drucker brasileiro [cuja BRAGARELLA ainda acharei pra ler um dia], e queria tanto algo com aquela cara. na verdade eu escrevi pro tio Chagas mas tive só silêncio como resposta. quando achei o Anderson foi como magia simpática.
the fact he's a MAD collaborator was crucial; he understood the script's mood and this is the most important thing in the writer-artist collaboration, even more than do a good script-to-art scene translation to me. it was also a great sinchronicity \ coincidence, as upon researching i couldn't stop looking at illustrations by Carlos Chagas, the brazilian Mort Drucker [whose BRAGARELLA I'll find one day], and wanted so much somehting that looked a bit like that. actually i did write uncle Chagas, and was met with silence. when i found Anderson it was like simpathetic magick.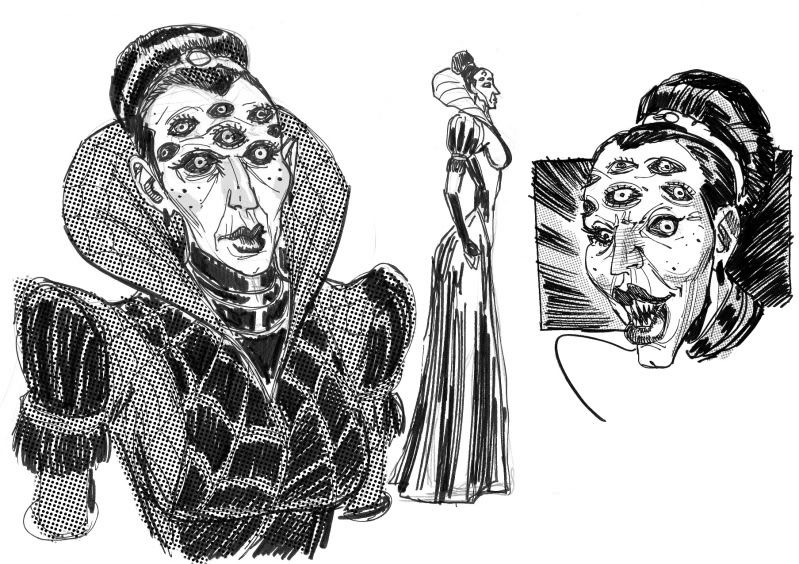 MULHEROMEM é uma HQ de humor com um protagonista hermafrodita combatendo um mal psicológico de todos nós encarnado. uma homenagem aos anos 70 [que reverencio obssessivamente]: às hqs, aos desenhos animados da Filmation, seriados como ELECTRA WOMAN & DYNA GIRL – um dos segmentos do saudoso KROFFT SUPERSHOW – ao filme É SIMONAL, às chanchadas setentistas do Canal Brasil, aos discos da banda Veneno do Erlon Chaves, às guitarras com efeito de wah-wah. enfim, um tributo à minha infância.
WO-MAN is a humour comic with a hermaphrodite main character that fights a psychological evil encarnate that's familiar to all of us. a homage to the 70s [that i obsessively go back to]: its comics, the Filmation cartoons, live-action series like ELECTRA WOMAN & DYNA GIRL – a segment of the dear KROFFT SUPERSHOW – to the movie IT'S SIMONAL, to the groovy chanchada sexual comedies of the 70s aired by Canal Brasil, to the Erlon Chaves's Veneno da band albums, to wah-wah guitars. anyway, a tribute to my childhood.
esse é com certeza um personagem com o qual pretendo fazer mais histórias. até o momento essa HQzinha de 5 páginas é talvez a que eu mais me diverti fazendo. seria lindo um dia ter um álbum com várias aventuras do[a] Mulheromem, misturando preto & branco com cores. vai nessa, Mulheromem!
this is certainly a character i intend to revisit in further stories. so far this little 5 page comic is paobably the one i had most fun doing. it would be beautiful to one day see a full book with WO-MAN's several adventures in B&W and colour. you go, Wo-man!
Posts Recentes | Recent Posts: